I've been planning a "Ten Things" Blog for a while, since I haven't made something akin to it for fucking ages. Get yourselves a coffee and a crumpet, and sit back to read!



THINGS A GIRL NEEDS IN HER HANDBAG:
i buy all of my make-up on sale. I very rarely spend any more than $10-$15 on something, even if it

does

go on my face. Inside my adorable vintage case (purchased from an opshop) you can find:
Tampons - an absolute necessary

Liquid eyeliner, two different (cheapo) brands

Black, brown and white eyeliner - black for the top lids, brown for the eyebrows and white to go underneath silver glitter, nude toned eyeshadows or on the bottom lids for a little boom.

Scissors, for little hair or costume emergencies
A lighter
Various eyeshadows, ranging from glitters and bright colours, to classy nude tones that suit my skin
RED. LIPSTICK. 2 shades.

3 different mascaras of differnt impacts, and various false eyelashes.

A deoderant that is subtle, spells "I wash daily" and

doesn't

reak of scent-a'la-slut. I go for Dove. You can put it on straight after a wax or shave without that horrible stinging feeling, it doesn't leave any white marks AND its relitively cheap!

A loose powder and pale foundation - I went for $2 Shop powder, and $10.99 Australis powder creme.

A

creme

blush. Creme blushers give you uber control of where you want your cheekbones

A good quality moisturiser. Moisturise BEFORE foundation and your skin will love you for life. I personally choose Olay - I love how it makes me feel clean, it smells nice and its good for sensitive AND combination skin.

2) A PORTABLE MUSIC DEVICE:
Since the international boom of New Media devices, music is everywhere. Even starving african kids have iPods and Mobile phones now. Get yourself a good pair of those little pluggy earphones and jam out. best for long bus trips, giving people the hint that you don't want to talk to them, waiting for appointments or moody days. Also fantastic for getting a lovely boy to sit closer to you.
"Hey, you with the hair, come here. I've got a tune for you!"
After all, earphones only stretch so far.
3) A MOD-CON PHONE
Girls need these. Put up with the huge phonebills, constant chatting and sneaky photos when you're not looking your best. eHarmony estimates that 2% of all americans met on eHarmony; myspace and facebook estimates that 72% of all teenagers met through their social networks that are now accessible on telephonic devices.
4) A NICE WALLET / PURSE
I can't stand these new "flat" wallets that are metal and snap together. They're not a wallet. A nice wallet is made of leather or high-quality cloth, often has lovely embossing and lots of pockets for cards, photos, tickets ect. I got mine from a melbourne opshop for 50cents.
5) ADDRESS BOOK / JOURNAL
keep track of dates and numbers. Also gives you somethign to write in when you're bored or catch the number of that lovely boy on the train. seeing as my love life is currently null and void, my 200 different journals are reserved for drawing and scratching down reasons why I hate things.
6) A HOBBY
For me, I take my crochet hook and wool everywhere. I'm not greatly skilled at it, and can only master a scarf, but it takes away the boredom and keeps my hands busy when i'm on a train. If you're craft orientated, take along your scrapbook or notepad or knitting, and look super cute
and
craft all at the same time.
7) A DIGITAL CAMERA
I know the phone covers it, but a camera is great for parties or coffeedates with friends.
FAMOUS MEN I WANT TO YOKO:
1) KISS REID - THE SCARE
I wake up every morning, asking myself why Kiss Reid and i aren't sharing the same life or bed together.
2) NICK VALENSI - THE STROKES
The starving malnourished look does it for me. And, he likes dogs. He has a french bulldog; I want to hug it.
3) CARL BARAT - THE LIBERTINES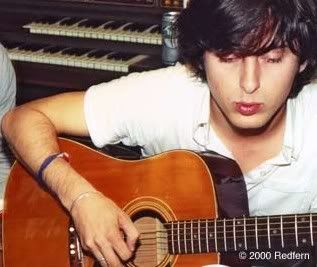 Can you look me in the eyes, and tell me this man doesn't ooze suave? My goodness. Swoon.
4) JESSE HUGHES - EAGLES OF DEATH METAL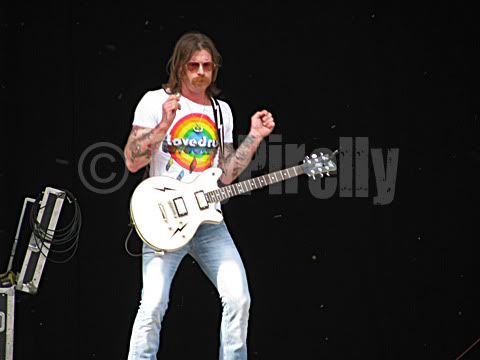 Facial hair, tight jeans and tattoos. he can serenade me anyday.
5) NICK CAVE
And we come back to how much I love the "I'm-addicted-to-hard-drugs-and-not-eating-enough" look. Nick only started to lose points for me when the hair started to go. You could find me crying lots because of such events.
6) TOM WAITS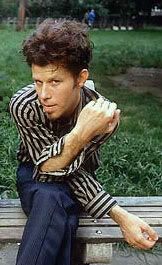 Come to think of it, the age doesn't freak me out with Tom. Fuck it. Tom Waits is still sexy as hell. He scares and grooves the panties off me.
7) TOMMY LEE - MOTLEY CRUE.

When I was thirteen, I was so in love with The bad Boy of GlamRock, I scratched "TOMMY LEE" with a love heart next to it with a penknife, because I was so bored. Such things can be found on my hand, just below my thumb. The heart faded, but the Tommy didn't.
Do I regret it?
Fuck No.
7 THINGS YOUR GIRLFRIEND
REALLY DOESN'T WANT YOU TO DO
DON'T DO:
1) Other girls.
2) Wear the same underwear or not shower, for more than two days in a row
After the second day, you stink.
You better have a good excuse to have only one pair of underwear.
3) Wear socks during sex
It's gross and really weird.
4) Scratch your balls, turn up on drugs, turn up hung over or beat up, with her parents around
She wants her parents to like you.
Parent's don't like these things. They think they're bad, gross and don't want their babygirl involved with such people.
5) Speeding
she doesn't want to be in a car accident and have horrible life-shanging, face-distorting scars, and she probably really likes having mobility and legs. She really doesn't give a flying fuck if you're a good driver or not. Good drivers crash too.
6) Liken her to one of your exgirlfriends / talk about your exgirlfriend post-sex
7) Make fun of her in front of her friends.
7 REASONS WHY MY LOVE LIFE IS REDUNANT
1) Changes
About a year or so ago, I was an over-possivile, clingly, relationship-obsessed freakgirl. In recent times, I've come to realise that I've gone from that, to being a total commitmentphobe. I don't know why; it sucks.
2) Unladylike
I fart, I pick my nose, I pick wedgies in public, do gross things to people. I talk about poo with Andy, and how much periods and constipation suck. I swear like a trooper in public, and can be often found wearing boys clothes or pajamas, because I can't be faggoted looking good that day.
3) Debatable
I"ll argue a point, even if I know I'm wrong. I'll fight for something that I believe in, and eventually try to convince you that I'm right. I think there is maybe two people who have caught me out on this; Cody can still shut me down. Bastard.
4) Complaining
If the opportunity arises, I'll complain. if I'm not complaining about something that I'm doing, I'm complaining about what others are doing. "What is your fucking problem? Why can't you work properly? Shut up, and do your shit."
You can find me complaining most in the car. "What the fuck? Why can't his guy drive? Where the fuck did he get his license? I drive better than him!"
I don't have my license.
5) Vain
I'm a self-confessessed self-aholic. I think about myself a lot, how I look, how I feel. I spend a lot of time in the mirror, being vain
and
complaining that I don't look good enough. Apparently, boys don't like girls that are both vain and unladylike.
6) Food
I love food. Don't come between me and chicken kiev, unless you don't value your life. I eat often, and I eat alot. Someone once told me, "Everytime I look at you, you're eating."
Eating is right up there with coffee, bourbon and cigarettes.
7) Intimidating.
A few of my friends have said that I can intimidate the shit out of people. I'm incredibly blunt, and the majority of my friends are boys that are rude, crude and just like me. If I don't like you for whatever reason I have, you'll definately know. I pass on the "Wow, you are
sooo
pretty! I'm going to kiss your arse and suck your toes until you like me!" bullshit; In my eyes, I'm really quite a nice person.